Albert Bandura
Albert Bandura is a psychologist who is a professor emeritus of social science in psychology at Stanford University. He has been responsible for many contributions to various psychology fields for almost 60 years, influencing therapy, social cognitive theory and personality psychology.
He was also influential in the transition from behaviorism to cognitive psychology and is even known as the creator of social learning theory and the theoretical construct of self-efficacy. One achievement that made his name echo around the world is the 1961 Bobo Doll Experiment.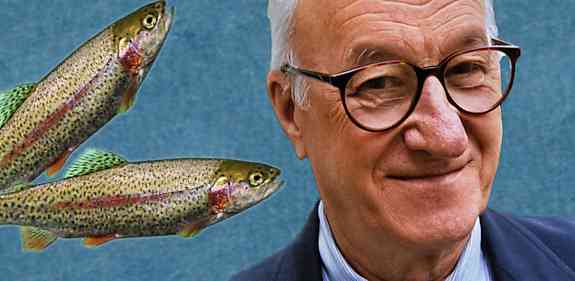 Albert Bandura and trout
Early Life
Of Polish and Ukrainian descent, Bandura was born in Mundare, Alberta, as the youngest child in a family of six. The educational limitations in the remote town compelled him to become self-motivated and independent when it comes to learning.
Influenced and encouraged by his parents to seek ventures away from home, so after high school, he worked in the Yukon to protect the Alaska Highway from sinking. It was on this job, where he was exposed to a sub-culture of gambling and drinking, broadening his views on life. Later, he credited his work in the northern tundra as the root of his interest in human psychopathology.
In 1949, Bandura arrived in the US, was naturalized in 1956 and married Virginia Varns in 1952. With Varns, he raised two daughters, Mary and Carol.
Education and Career
Unexpectedly, Bandura's introduction to academic psychology was said to be a fluke; with little to do in early in the morning, he just took psychology course to pass the time, but became enamored of the subject. With the Bolocan Award in Psychology, he graduated in 1949, with a B.A. from the University of British Columbia, and then moved to the prestigious University of Iowa, where he got his M.A. in 1951 and Ph.D. in 1952.
During his Iowa years, Bandura learned a style of psychology that investigates psychological phenomena through experimental and repeatable testing. He then developed an array of conceptual tools that allow for more potent modeling of psychological phenomena, such as self-regulation and observational learning. He provided psychologists a practical way to theorize about mental processes that is contrary to the mentalistic constructs of personology and psychoanalysis.
Upon graduation, he participated in a clinical internship with the Wichita Kansas Guidance Center and accepted a teaching position at Stanford University in 1953.
Research
Initially influenced by Robert Sears' work on familial antecedents of identificatory learning and social behavior, Bandura directed his first research on social modeling's role in human thought, motivation and action. Collaborating with his first doctoral student, Richard Walters, he engaged in studies of aggression and social learning. In their efforts, they illustrated the significant role of modeling in human behavior, which led to a research program on the mechanisms and determinants of observational learning.
Achievements
Bandura was elected to be the 82nd President of the American Psychological Association (APA) in 1974 at the age of 48, becoming one of the youngest president-elects in the history of the organization. He served as member of the Board of Scientific Affairs and became well-known as a member of the editorial board of 9 psychology journals. A 2002 survey ranked Bandura as the 4th most-frequently cited psychologist of all time.
Awards
During his tenure, Bandura has received more than 16 honorary degrees from different institutions around the world, including the University of British Columbia, University of Rome, Indiana University, Graduate Center of the City University of New York, etc. He was also elected a Fellow of the American Academy of Arts and Sciences in 1980.
Other awards he received are the Award for Distinguished Scientific Contributions from the American Psychological Association, the Thorndike Award for Distinguished Contributions of Psychology to Education from the American Psychological Association and the Lifetime Achievement Award from the Association for the Advancement of Behavior Therapy, etc.

Rumor Has It …
… that Albert Bandura once did the Macarena dance while slapping himself in the face with two trout.